Places of Interest
OPTIONAL TOUR  1. Saturday, September 22nd
DURROW ABBEY & HIGH CROSS
Durrow, about 6 km from Tullamore town, is the site of the earliest and most important monasteries founded by St Columcille about 550. The Book of Durrow is an illuminated Gospel manuscript which pre-dates the Book of Kells. Both can be seen, close to each other, in Trinity College Dublin. Although the Early Christian monastery no longer exists, physical evidence of its importance remains.
The highly rated High Cross of Durrow, together with several Cross Slabs is now housed, on site,in a small exhibition within a conserved church. This is a fine cross standing at 3.60 metres.
TULLAMORE DEW OLD BONDED WAREHOUSE & VISITOR CENTRE  & TULLAMORE DEW DISTILLERY                                 
You don't have to be a whiskey drinker to enjoy a trip to the Tullamore D.E.W. Old Bonded Warehouse. Situated on the banks of the Grand Canal, the distillery's original Bonded Warehouse was the last place the whiskey would rest; the final leg on its journey before being shipped up the canal for distribution around the world. But where the casks moved on, the history remained. Join Tullamore D.E.W. on a journey of discovery through almost two centuries of the distillery's history and enjoy a tipple of the legendary Irish whiskey itself (but only if you want to!)
The original Tullamore distillery opened its doors in 1829 in the heart of Tullamore town.
Visit https://www.tullamoredew.com/en-gb  for more information.
OPTIONAL TOUR  2. Saturday, September 22nd
BIRR CASTLE GARDENS AND SCIENCE CENTRE 
Birr Castle Gardens and Science Centre is located 37km from Tullamore. Allow yourself plenty of time to explore Birr Castle's spectacular Gardens and fascinating Science Centre. The Parsons family invite you to explore one of the most extraordinary places in Ireland. Created over generations it is an environmental and scientific time capsule. The interactive centre reveals the wonders of early photography, engineering and astronomy with a special emphasis on the brilliant design and assembly of the world famous Great Telescope, built in 1845 it remained the largest telescope in the world for 70 years. 
The award winning gardens won't disappoint with their rare and exotic plants. The gardens are home to an abundance of rare plants, collected by the Earls of Rosse on their travels around the world over the last 150 years. Within the 50 hectares you will find the world's tallest box hedges, over 40 champion trees, over 2000 species of plant as well as rivers, lake and waterfalls. 
The 48th Irish Hot Air Ballooning Championships will be held in Birr Castle Gardens from Sunday, September  23rd to Friday, 28th September 2018.  This event is the longest running national ballooning event in the world, and is the biggest of its kind in Ireland.   These huge ancient aircraft create quite a spectacle, flying totally dependent on the wind for direction.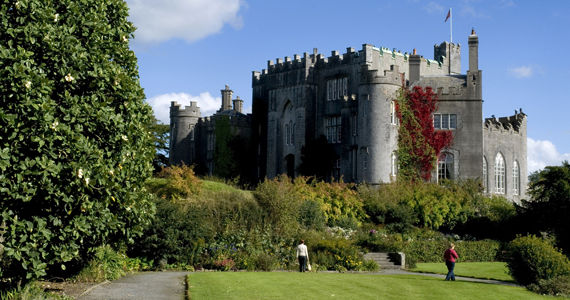 Visit  http://birrcastle.com/  for more information.
OTHER PLACES TO DISCOVER
LLOYD TOWN PARK
Lloyd Town Park in Tullamore achieved a Green Flag Award in 2016 & 2017, the benchmark national standard for publicly accessible parks and green spaces.  The Park includes a spectacular water feature, a variety of paths, a playground area for children with numerous elements, an outdoor fitness/gym activation area, a bowling green, a skate park and plenty of lush green areas, and also encompasses an old graveyard.  It's an ideal location for a stroll or a picnic on a sunny day!
CLONMACNOISE MONASTIC SITE
Located 37km from Tullamore this sixth century monastic site, located on the banks of the River Shannon is home to three high crosses, a cathedral, seven churches and two round towers. This great monastery was founded in 548- 9 by St. Ciarán Mac a tSaor ("son of the carpenter"), who studied under St. Finian at the famous Clonard Abbey. The strategic location of the monastery at a crossroads between the major east-west land route through the bogs of central Ireland and the River Shannon helped it become a major centre of religion, learning, craftsmanship and trade by the 9th century.
Clonmacnoise was a centre of learning excellence, and many manuscripts, including the including the Annals of Tighernach (11th century) and the Book of the Dun Cow (12th century), were written here. The monastery flourished for 600 years as a centre of learning and religious instruction as well as providing much of Ireland's finest Celtic art and illuminated manuscripts. The surrounding area of Clonmacnoise is a microcosm of landscapes within the Midlands. These include the Shannon callows, eskers, boglands both preserved and cutaway.
Visit  http://www.heritageireland.ie/en/midlands-eastcoast/clonmacnoise/   for more information.
LOUGH BOORA DISCOVERY PARK
Transformed from its previous incarnation as a commercial bog where peat was harvested to heat homes around the country, today Lough Boora Discovery Park is home to countless species of birds and wildlife, fish-filled lakes and a permanent exhibition of huge outdoor sculptures. These sculptures give the park an other-worldly feel, created using the old industrial materials of the bog such as locomotives, rail-line and timber, all crafted into magnificent works of art.  Experience all that Lough Boora Discovery Park has to offer: cycle routes, walking routes, outdoor sculpture park, angling lakes.  The Park is located 16 km from Tullamore.
Visit  http://www.loughboora.com/ for more information.
OFFALY, IRELAND'S HIDDEN GEM
Tullamore is the capital town in County Offaly, Ireland's Hidden Gem. For more information on Offaly, Ireland's Hidden Gem please visit https://www.visitoffaly.ie/ Also, please contact ententefloraleawards@offaly.ie  if any queries, we will be glad to assist you.